Asteroid 1999 CK46 Passing the Sombrero Galaxy
31-Mar-2016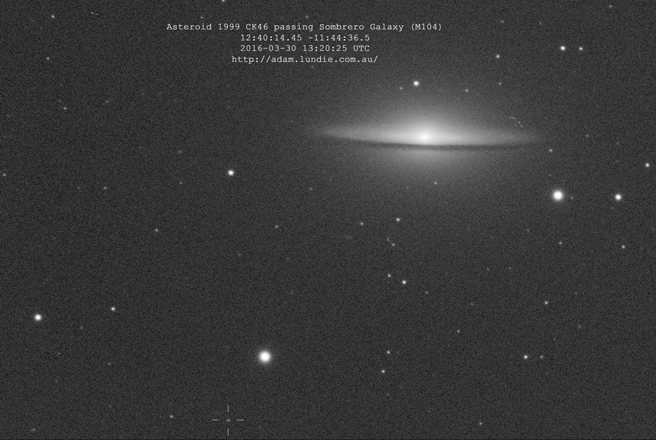 While looking through the data captured of the Sombrero Galaxy, I discovered an object slowly moving through the field of view. I have identified the object as main belt asteroid 1999 CK46, magnitude 17.4.
Orbit:

Image:

29x 240s Luminance bin2x2 + 25 flat + 40x dark + 120x bias
Total exposure time: 2 hours 34 minutes.
Hardware:

Celestron EdgeHD 1100
Skywatcher EQ8 Pro mount
QSI 683-ws Camera @ -15°C
Astronomik Type 2c luminance filter
Orion StarShoot Autoguider
Innovations Foresight On Axis Guider
Starlight Xpress Adaptive Optics
Location:

Orange zone in Brisbane, Australia. (Bortle 7)
Average seeing + 60% moon phase (waning gibbous).
Software:

Captured with AstroArt 6
Guiding with PHD2 + PHD_Dither
CCDInspector: Image analysis & rejection
CCDStack 2+: Calibrate, align, normalize.
Astro Tortilla: Plate solving.
Aladin 9: Planning, astrometry.
Photoshop CC: Labels, crosshair, animation.