Colliding Antennae Galaxies
06-Apr-2016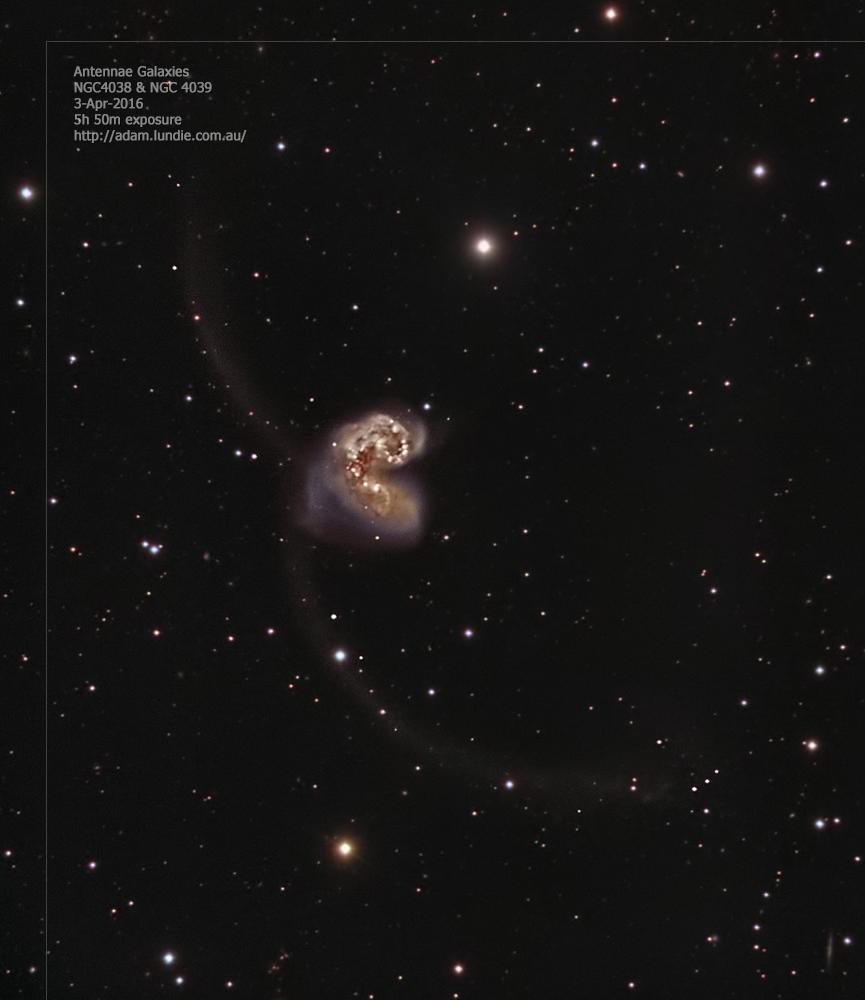 The Antennae Galaxies, also known as NGC 4038/NGC 4039, are a pair of interacting galaxies ~45 million light years away. They are currently going through a starburst phase, in which the collision of clouds of gas and dust, with entangled magnetic fields, causes rapid star formation.
This was a particularly difficult subject for me, due to the lack of guide stars bright enough to use adaptive optics at my usual 5hz rate.
Image:
50x 300s Luminance bin2x2 + 15 flat + 50x dark + 120x bias
13x 150s Red bin3x3 + 15 flat + 50x dark + 120x bias
10x 150s Green bin3x3 + 15 flat + 50x dark + 120x bias
14x 150s Blue bin3x3 + 15 flat + 50x dark + 120x bias
Total integration 5 hours 43 minutes.
Hardware:
Celestron EdgeHD 1100
Celestron EdgeHD 0.7x Focal Reducer
SkyWatcher EQ8 Pro Mount
QSI 683-wsg Camera @ -15°C
Astronomik Typ 2c LRGB filters
Orion StarShoot Autoguider
Foresight Innovations On Axis Guider
Starlight Xpress Adaptive Optics
Location:
Orange zone in Brisbane, Australia. (Bortle 7)
Average seeing + 21% moon phase.
Software:
Planning & camera alignment with Aladin 9
Captured with AstroArt 6
Guiding with PHD2 + PHD_Dither
CCDInspector: Image analysis & rejection
CCDStack 2+: Calibrate, align, stack, combine RGB.
Photoshop CC: Noise reduction, minimum filter, shadows/highlights, curves, high pass filter, unsharp mask.