Galactic Trio Arp 286
27-May-2019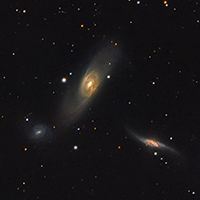 A trio of interacting galaxies. NGC 5560, which is stretched out from interacting with the large galaxy NGC 5566 (yellow). NGC 5569 is the small, blue galaxy below NGC 5566.
Image:

58x 240s Luminance
17x 240s Red
16x 240s Green
16x 240s Blue
Total integration 8 hours 56 minutes.
Hardware:

Celestron 11" EdgeHD
Skywatcher EQ8 Pro mount
QSI 683-ws8 Camera @ -15°C
Astronomik Luminance, Deep Sky RGB filters
Starlight Xpress Lodestar X2 Autoguider
Starlight Xpress Active Optics
Innovations Foresight On Axis Guider
Starlight Instruments Focus Boss II
Location:

Exposed during 5 nights between 28th April and 21st May 2019.
Orange zone in Brisbane, Australia. (Bortle 7)
Software:

Planning & camera alignment with Aladin 10
Captured with TheSkyX Professional
Guiding with PHD2
FocusLock live focusing
PixInsight: Calibrate, align, stack, noise reduction, LRGB combination, histogram stretch, HDR multiscale transform, curves.
Photoshop CC: Saturation, high pass filter.