Messier 15 Globular Cluster with IFN
13-Oct-2019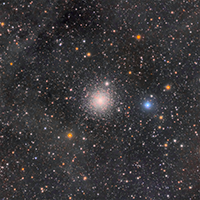 Messier 15 is a very old and tightly packed home to over 100,000 stars. It is 33,600 light years from Earth, and is visible to the naked eye in areas with little light pollution.
Surrounding M15 are areas of Integrated Flux Nebula - areas of gas illuminated by flux of the Milky Way.
Image:

49x 300s Luminance
40x 120s Luminance
20x 300s Red
12x 120s Red
15x 300s Green
15x 120s Green
19x 300s Blue
15x 120s Blue
Total integration 11 hours, 19 minutes.
Hardware:

Skywatcher Black Diamond 80ED
Skywatcher EQ8 Pro mount
QSI 683-ws8 Camera @ -15°C
Astronomik deep sky RGB filters
Starlight Xpress Lodestar X2 Autoguider
Innovations Foresight ONAG
Starlight Instruments Feather Touch Focuser
Location:

Exposed over 6 nights between 11th August and 1st September 2019.
Orange zone in Brisbane, Australia. (Bortle 7)
Software:

Planning & camera alignment with Aladin 10
Captured with TheSkyX Professional
Guiding with PHD2
PixInsight: Calibrate, align, integrate, HDR composition, dynamic background extraction, LRGB combination, noise reduction, photometric color calibration, histogram, curves, crop.