Molecular Clouds Barnard 92 and Barnard 93
04-Sep-2019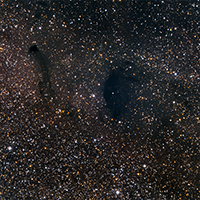 The dark molecular clouds of Barnard 92 (center) and 93 (left) are superimposed over the Messier 24 Sagittarius Star Cloud.
Image:

55x 240s Luminance
15x 120s Red
13x 120s Green
15x 120s Blue
Total integration 5.1 hours.
Hardware:

Skywatcher Esprit ED120
Skywatcher EQ8 Pro mount
QSI 683-ws8 Camera @ -15°C
Astronomik 6nm narrowband filters
Starlight Xpress Lodestar X2 Autoguider
Baader MPCC II coma corrector
Location:

Imaged on 2 nights 12th June 2019, 20th June 2019.
Orange zone in Brisbane, Australia. (Bortle 7)
Software:

Planning & camera alignment with Aladin 10
Captured with TheSkyX Professional
Guiding with PHD2
PixInsight: Calibrate, align, stack, noise reduction, histogram stretch, curves.
Photoshop CC: Saturation, annotation.