Red Spider Nebula
26-Nov-2020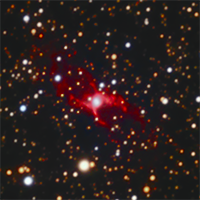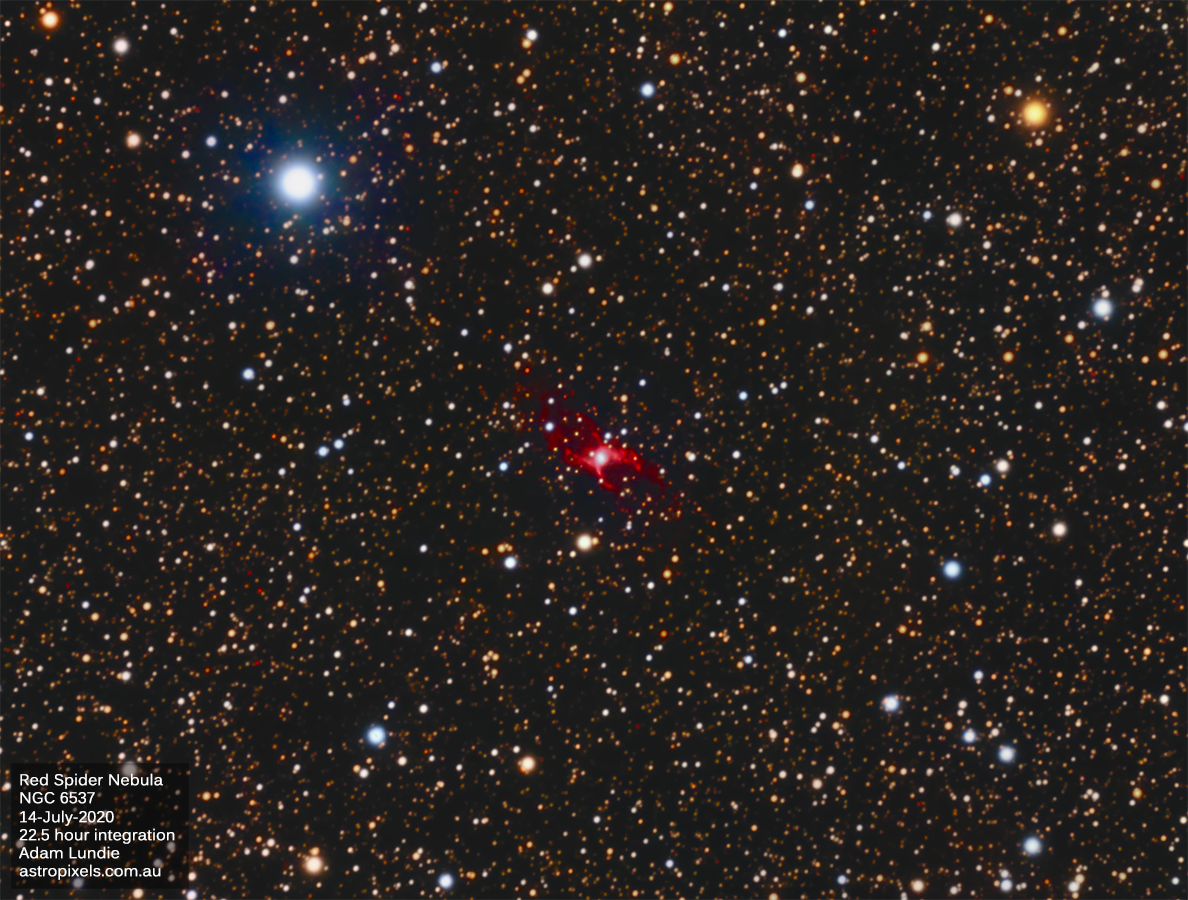 The Red Spider Nebula (also catalogued as NGC 6537) is a planetary nebula located near the heart of the Milky Way.
The central white dwarf, the remaining compact core of the original star, produces a powerful and hot (≈10,000 K) wind blowing with a speed of 300 kilometers per second, which has generated waves 100 billion kilometres high. The waves are generated by supersonic shocks formed when the local gas is compressed and heated in front of the rapidly expanding lobes. Atoms caught in the shocks radiate a visible light. These winds are what give this nebula its unique 'spider' shape and also contribute to the expansion of the nebula.
Source: Wikipedia
Image:

145x 240s Luminance
64x 240s Red
66x 240s Green
63x 240s Blue
Total integration 22.5 hours. Focal length: 2800mm
Hardware:

Celestron 11" EdgeHD
Skywatcher EQ8 Pro mount
QSI 683-ws8 Camera @ -15°C
Astrodon LRGB Gen2 E-Series Tru-Balance filters
Starlight Xpress Lodestar X2 Autoguider
Innovations Foresight ONAG
Starlight Instruments Feather Touch Focuser
Location:

Exposed over 4 nights between 22nd to 26th June 2020
Orange zone in Brisbane, Australia. (Bortle 7)
Software:

Planning & camera alignment with Aladin 10
Captured with TheSkyX Professional
Guiding with PHD2
PixInsight: Calibrate, align, integrate, dynamic background extraction, LRGB combination, noise reduction, photometric color calibration, histogram, curves, crop.