Reflection Nebula NGC5367
25-Apr-2018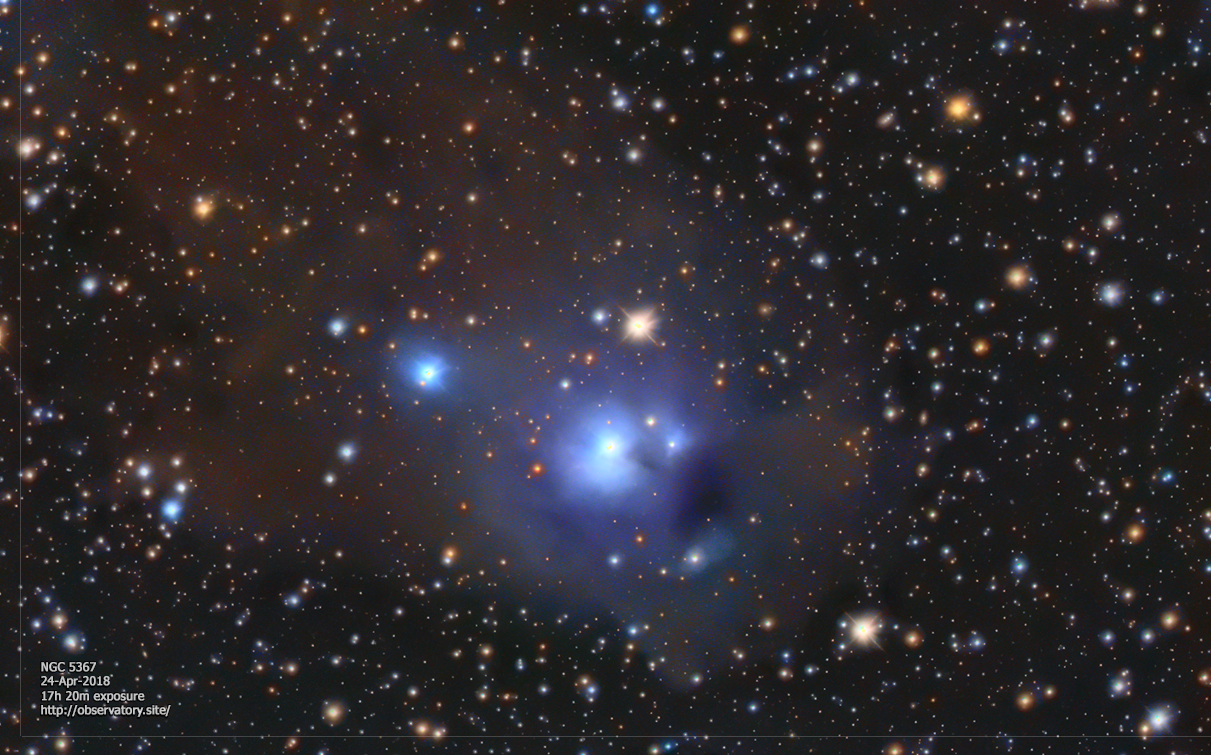 NGC5367 is a reflection nebula 2000 light years in the Centaurus constellation. The bright blue stars illuminate the otherwise dark molecular cloud complex.
On a personal note, I am finally happy to get some fantastic natural star colours. I believe this is due to replacing my Astronomik Deep Sky Red filter with the older Typ2 Red, giving a slight overlap between red and green, which allows richer orange and browns.
Image Integration:

102x 240s Light-Pollution filter
54x 240s Red
54x 240s Green
502x 240s Blue
Total exposure 17 hours 20 minutes.
Hardware:

GSO RC8 carbon fibre astrograph
SkyWatcher EQ8 Pro Mount
QSI 683-ws8 Camera @ -15°C
Astronomik Deep Sky Red, Deep Sky Green, Typ2 Red, CLS-CCD light pollution filters
Starlight Xpress Lodestar X2 Autoguider
Starlight Xpress Active Optics
Innovations Foresight On Axis Guider
Location:

Imaged over four nights, high humidity. Orange zone in Brisbane, Australia. (Bortle 7)
Software:

Planning & camera alignment with The SkyX Pro
Captured with AstroArt 6
Guiding with PHD2 + PHD_Dither
CCDInspector: Image analysis & rejection
CCDStack 2+: Calibrate, align, stack.
PixInsight: Linear fit, denoise, deconvolution, background neutralization, histogram, curves, local histogram equalization, combine LRGB, saturation.