Saturn Nebula 2017
11-Aug-2017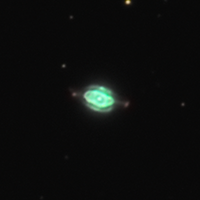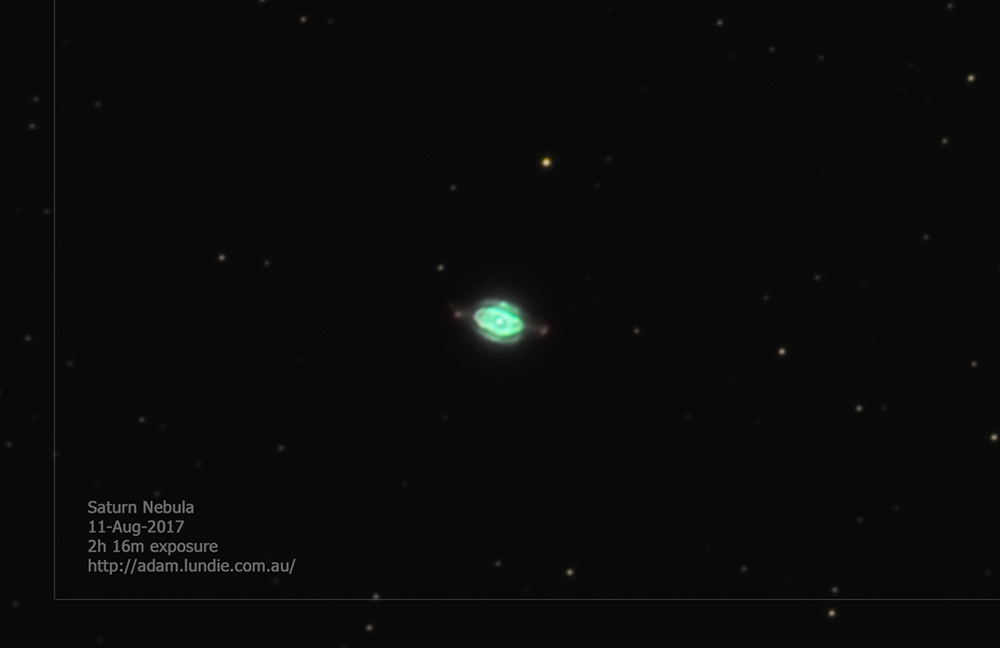 After a brief hiatus from astronomy to build a new, larger observatory, I've chosen another difficult target that was surprisingly bright.
The Saturn Nebula is a tiny but complex planetary nebula, ~4000 light years away in Aquarius. The Saturn Nebula gets its name from its resemblance to the planet Saturn to the observer.
Image:

103x 60s Luminance + 12 flat + 50x dark + 120x bias
39x 60s Red + 10 flat + 50x dark + 120x bias
39x 60s Green + 10 flat + 50x dark + 120x bias
33x 60s Blue + 10 flat + 50x dark + 120x bias
Total exposure 2 hours 16 minutes.
Hardware:

Celestron 11-inch Edge HD
SkyWatcher EQ8 Pro Mount
QSI 683-ws Camera @ -15°C
Astronomik Typ2 LRGB filters
Starlight Xpress Lodestar X2 Autoguider
Starlight Xpress Adaptive Optics
Innovations Foresight On Axis Guider
Starlight Instruments Focus Boss II
Location:

Orange zone in Brisbane, Australia. (Bortle 7)
Imaged over 3 nights, 50% moon.
Software:

Planning & camera alignment with Aladin 9
Captured with AstroArt 6
Guiding with PHD2 + PHD_Dither
FocusLock live focusing
CCDInspector: Image analysis & rejection
CCDStack 2+: Calibrate, align, stack, deconvolution, remove gradients, combine RGB.
Photoshop CC: Shadows/highlights, high pass filter, unsharp mask, combine L+RGB, curves, adjust colour balance, saturation, crop.