The Flame and Horsehead Nebulae
04-Jan-2017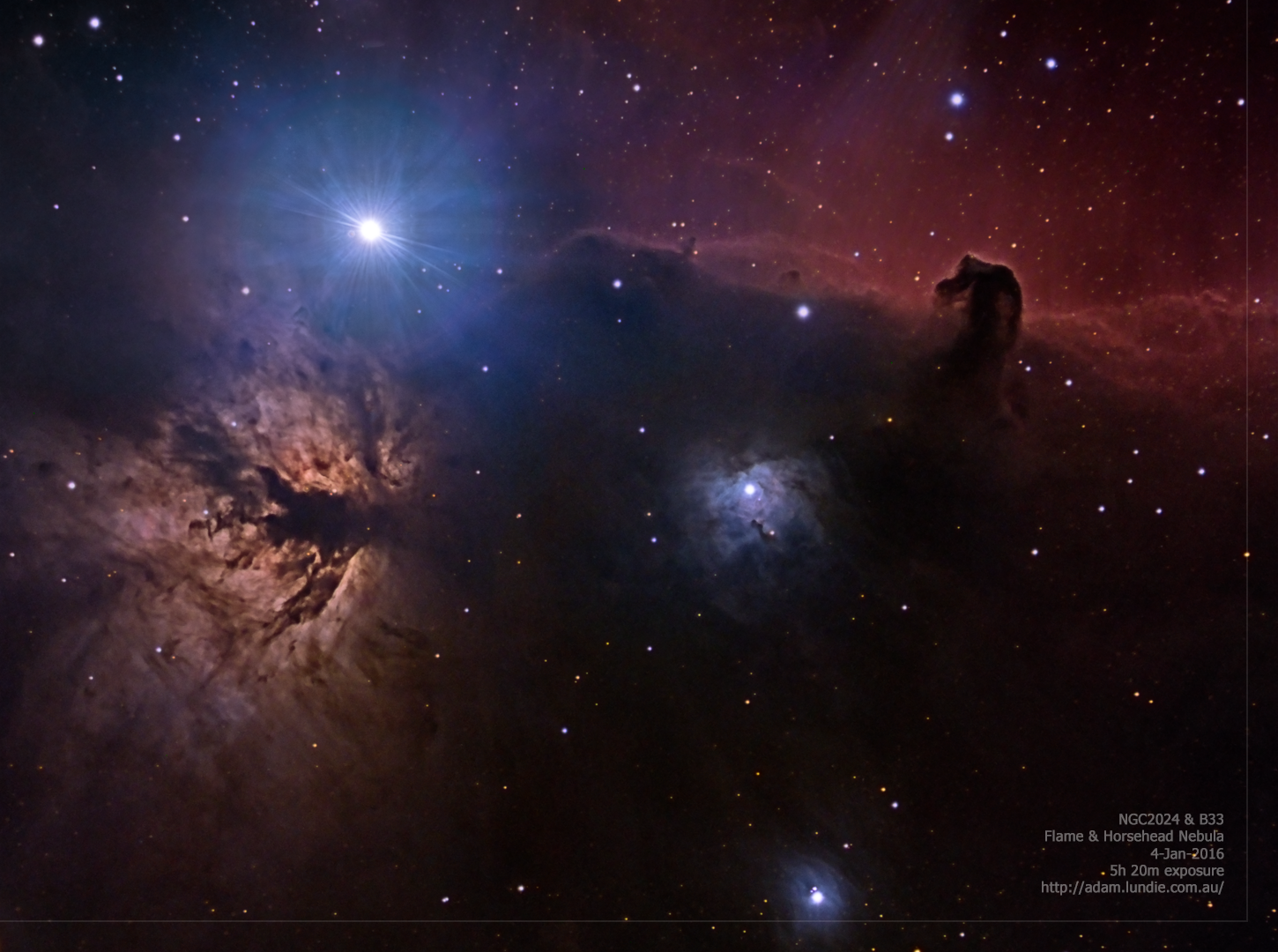 Adjacent to the bright blue supergiant star Alnitak shines the ionised hydrogen of the Flame and Horsehead nebulae.
1500 light years from earth the bright blue supergiant star Alnitak, the easternmost star of the Belt of Orion, shines energetic light into the Flame Nebula causing the ionised hydrogen to glow. In front of the Flame Nebula is a dark cloud of gas, causing its flame-like appearance.
On the other side of Alnitak lies the well known Horsehead Nebula. The red or glow originates from hydrogen gas predominantly behind the nebula, ionized by the nearby bright star Sigma Orionis. Magnetic fields channel the gases leaving the nebula into streams, shown as streaks in the background glow.
Nearby to the Horsehead Nebula is the blue reflection nebula NGC 2023. At 4 light years diameter, it is the largest reflection nebulae discovered. A similar reflection nebula named VDB 57 is shown at the bottom of the frame.
Image:

50x 240s Luminance bin1x1 + 35 flat + 50x dark + 120x bias
24x 120s Red bin2x2 + 32 flat + 50x dark + 120x bias
13x 120s Green bin2x2 + 32 flat + 50x dark + 120x bias
23x 120s Blue bin2x2 + 32 flat + 50x dark + 120x bias
Total exposure 5 hours 20 minutes.
Hardware:

Skywatcher Black Diamond ED120
SkyWatcher EQ8 Pro Mount
QSI 683-ws8 Camera @ -15°C
Astronomik Typ 2c LRGB Filters
Starlight Xpress Lodestar X2 Autoguider
Innovations Foresight On Axis Guider
Starlight Instruments Focus Boss II
Location:

Orange zone in Brisbane, Australia. (Bortle 7)
Software:

Planning & camera alignment with Aladin 9
Captured with AstroArt 6
Guiding with PHD2 + PHD_Dither
FocusLock live focusing
CCDInspector: Image analysis & rejection
CCDStack 2+: Calibrate, align, stack, combine RGB.
Photoshop CC: Noise reduction, shadows/highlights, high pass filter, merge L+RGB, color balance, curves.