Revisiting the Lagoon Nebula with a new telescope.
10-Jun-2016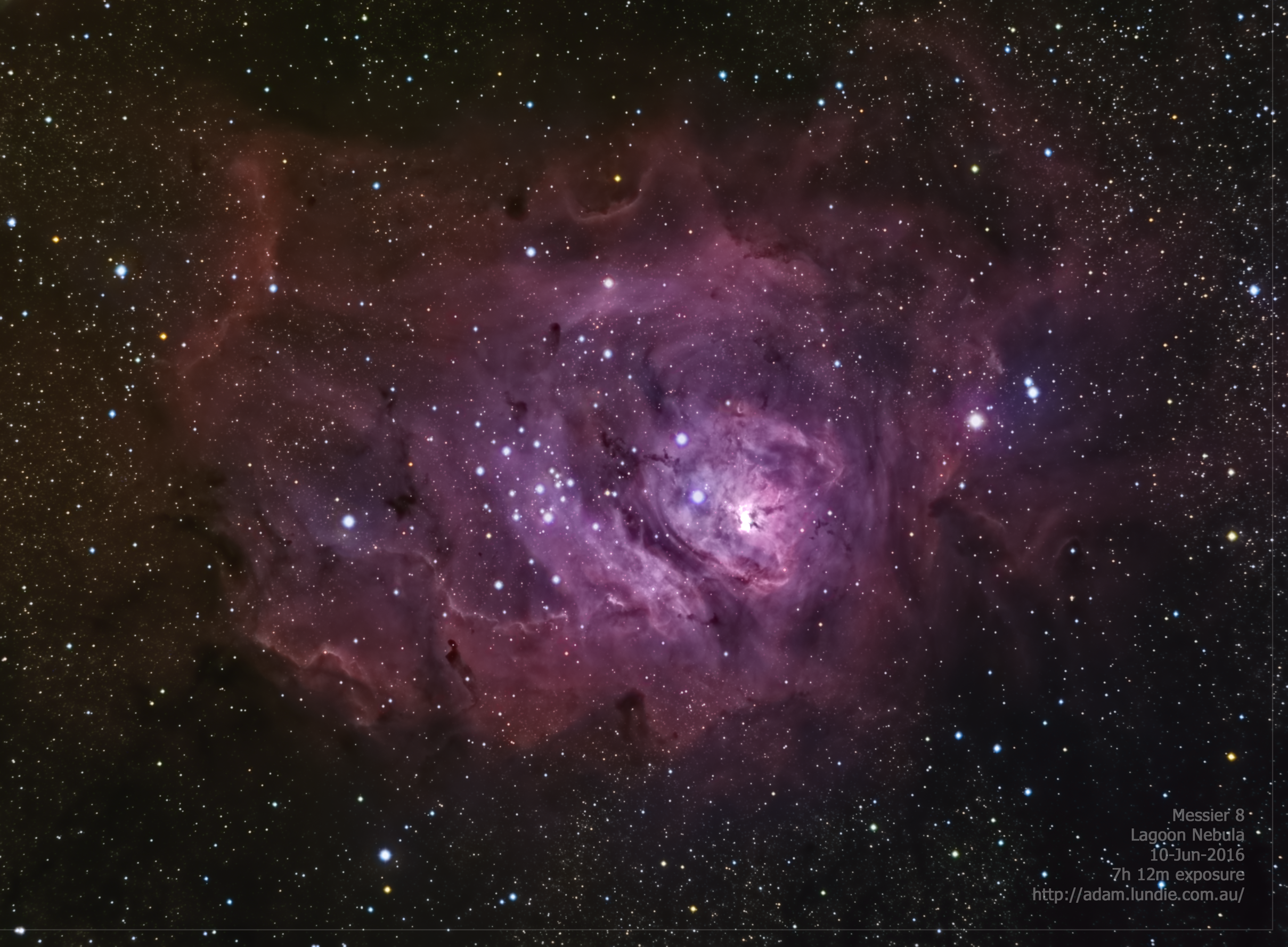 I was lucky enough to snag a second hand 900mm refractor at a good price. I needed a bright target to test it with. The Lagoon Nebula is a giant interstellar cloud around 4077 light years away, classified as an emission nebula and as an H II region.
Image:

66x 300s Luminance bin1x1 + 20 flat + 50x dark + 120x bias
16x 150s Red bin2x2 + 15 flat + 50x dark + 120x bias
14x 150s Green bin2x2 + 15 flat + 50x dark + 120x bias
11x 150s Blue bin2x2 + 15 flat + 50x dark + 120x bias
Total exposure 7 hours 12 minutes.
Hardware:

Skywatcher Black Diamond ED120
SkyWatcher EQ8 Pro Mount
QSI 683-ws Camera @ -15°C
Astronomik Typ 2c LRGB filters
Starlight Xpress Lodestar X2 Autoguider
Innovations Foresight On Axis Guider
Location:

Green zone in Brisbane, Australia. (Bortle 7)
Imaged during new moon with good seeing.
Software:

Planning & camera alignment with Aladin 9
Captured with AstroArt 6
Guiding with PHD2 + PHD_Dither
CCDInspector: Image analysis & rejection
CCDStack 2+: Calibrate, align, stack, deconvolution, combine RGB.
Photoshop CC: Reduce noise, high pass filter, minimum filter, shadows/highlights, levels, curves, combine L+RGB.