A collection of astronomical photos taken by Adam Lundie at Eatons Hill Observatory.
Equipment Used:

Telescope 1: Celestron 1100 Edge HD
Telescope 2: Skywatcher Esprit 120ED
Telescope 3: Skywatcher Black Diamond 80ED
Mount: Skywatcher EQ8-Rh Pro
Imaging Cameras: QSI 683ws-8 Monochrome, ZWO ASI290MM
Filters: Astrodon Tru-Balance Gen 2 LRGB, Astronomik CLS-CCD, 6nm Hα, 6nm SII, 6nm OIII, ProPlanet 742nm IR-pass
Guide Camera: Starlight Xpress Lodestar X2
Guiding Optics: Skywatcher Evoguide 50ED, Innovations Foresight ONAG, Starlight Xpress Large Format Active Optics
Focusers: Starlight Instruments Feather Touch + Posi Drive Motor
Recent Work:
---
---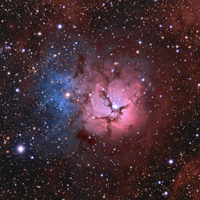 03-Aug-2016
Almost everyone has a go at imaging the Trifid nebula, which is composed of 3 different type of nebulae; emission, reflection, and absorption. When I noticed some faint red glow in the background, I decided to try integrating some long hydrogen emission line frames to see if I could get any structure out of it. I'm quite happy with the resulting background structures!
---
---
---
---
---
---
---
---
---
---
---
---
---