A collection of astronomical photos taken by Adam Lundie at Eatons Hill Observatory.
Equipment Used:

Telescope 1: Celestron 1100 Edge HD
Telescope 2: Skywatcher Esprit 120ED
Telescope 3: Skywatcher Black Diamond 80ED
Mount: Skywatcher EQ8-Rh Pro
Imaging Cameras: QSI 683ws-8 Monochrome, ZWO ASI290MM
Filters: Astrodon Tru-Balance Gen 2 LRGB, Astronomik CLS-CCD, 6nm Hα, 6nm SII, 6nm OIII, ProPlanet 742nm IR-pass
Guide Camera: Starlight Xpress Lodestar X2
Guiding Optics: Innovations Foresight ONAG, Starlight Xpress Large Format Active Optics
Focusers: Starlight Instruments Feather Touch + Posi Drive Motor
Recent Work: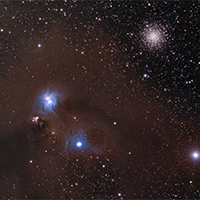 26-Jun-2016
Less than 500 light-years away and blocking light from more distant, background stars in the Milky Way, the densest part of the dust cloud of Caldwell 68 is about 8 light-years long. At its tip is a group of reflection nebulae cataloged as NGC 6726, 6727, 6729, and IC 4812. A characteristic blue color is produced as light from hot stars is reflected by the cosmic dust.
---
---
---
---
---
---
---
---
---
---
---
---
---
---
---