A collection of astronomical photos taken by Adam Lundie at Eatons Hill Observatory.
Equipment Used:

Telescope 1: Celestron 1100 Edge HD
Telescope 2: Skywatcher Esprit 120ED
Telescope 3: Skywatcher Black Diamond 80ED
Mounts: Skywatcher EQ8 Pro
Imaging Cameras: QSI 683ws-8 Monochrome, ZWO ASI290MM
Filters: Astrodon Tru-Balance Gen 2 LRGB, Astronomik CLS-CCD, 6nm Hα, 6nm SII, 6nm OIII, ProPlanet 742nm IR-pass
Guide Camera: Starlight Xpress Lodestar X2
Guiding Optics: Innovations Foresight ONAG, Starlight Xpress Large Format Active Optics
Focusers: Starlight Instruments Feather Touch + Posi Drive Motor
Recent Work: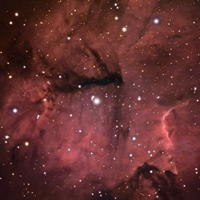 22-Jan-2016
Gum 15 is a cloud of hydrogen gas 3,000 light-years from Earth. It is shaped by aggressive winds flowing from the stars within and around it.
---
---
---
---
---
---
---
---
---
---
---
---
---
---
---