A collection of astronomical photos taken by Adam Lundie at Eatons Hill Observatory.
Equipment Used:

Telescope 1: Celestron 1100 Edge HD
Telescope 2: Skywatcher Esprit 120ED
Telescope 3: Skywatcher Black Diamond 80ED
Mount: Skywatcher EQ8-Rh Pro
Imaging Cameras: QSI 683ws-8 Monochrome, ZWO ASI290MM
Filters: Astrodon Tru-Balance Gen 2 LRGB, Astronomik CLS-CCD, 6nm Hα, 6nm SII, 6nm OIII, ProPlanet 742nm IR-pass
Guide Camera: Starlight Xpress Lodestar X2
Guiding Optics: Innovations Foresight ONAG, Starlight Xpress Large Format Active Optics
Focusers: Starlight Instruments Feather Touch + Posi Drive Motor
Recent Work:
---
---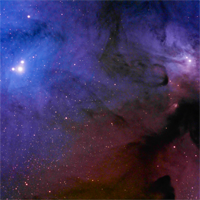 27-Apr-2017
Inside the Rho Ophiuchi cloud complex live the star clusters IC4604 (left) and IC4603 (right). Heading towards the bottom of the image shows the transition from blue reflection nebulae to red emission nebulae. Interspersed are dark absorption nebulae, blocking the light from the stars behind them.
---
---
---
---
---
---
---
---
---
---
---
---
---